Performing Arts
Opportunities for every performer
Rosebank College offers a variety of extracurricular and co-curricular options in the Performing Arts. An inclusive environment for students of varied skill levels, we encourage all inclined students to get involved in music, dance and drama at Rosebank.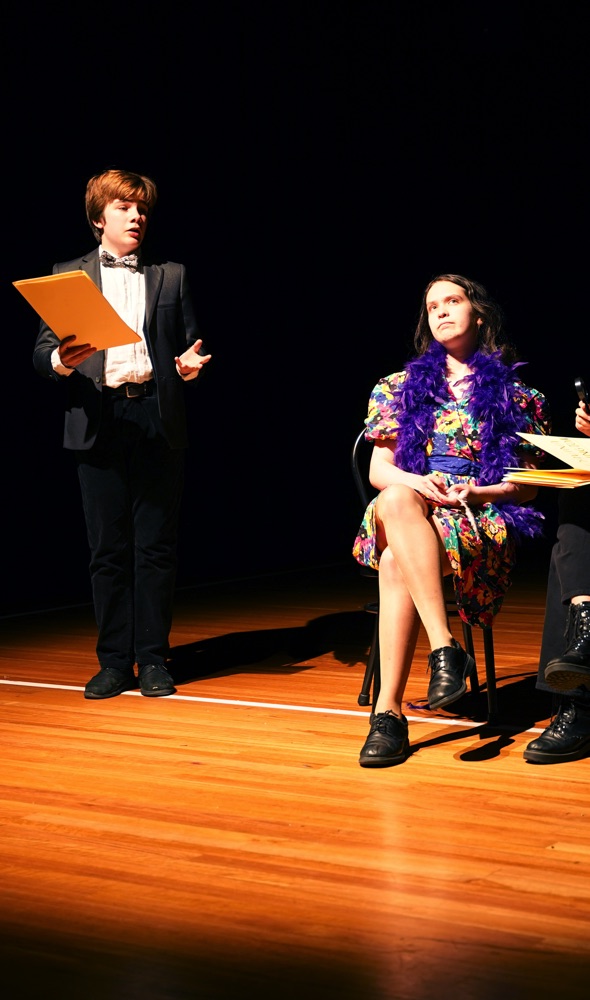 Music
Peripatetic Music Tuition
Rosebank offers students private music tuition with a group of professional musicians who tutor students and nurture their learning. Students develop specific skills that enable them to perform individually and in ensembles.
Private Music Tuition is available to all interested students. Tuition requires a serious commitment and means students must commit to a minimum of one full school term and a performance at the annual Soiree. This helps to develop performance skills and further engage the student, working towards a goal to increase learning potential.
The instruments that are offered at Rosebank are:
Bass Guitar

Cello

Clarinet

Double Bass

Drums/percussion

Flute

Guitar

Piano

Saxophone

Trombone

Trumpet

Viola

Violin

Voice
The Beginner Orchestra ensemble is for students in Years 7-10 who have just begun to learn an orchestral or concert band instrument.
These students are often identified in Year 7 from the Instrumental Program and are invited to join so they may continue learning the instrument in an ensemble environment. These students develop their technique, music reading ability and confidence, and are encouraged to join if they have a keen interest in pursuing their learning. From this ensemble, students are invited to join one of our more advanced ensembles.
The College Choir is open to students in Years 7-12 who love to sing, with no prior vocal experience required.
Students learn a variety of styles of music from jazz and popular to sacred music. Students learn correct vocal technique and how to sing in harmony. They perform regularly at College events, Masses and community events.
The Concert Band is for students in Years 7-12 who play a wind, brass, bass guitar or percussion instrument.
Students participate in weekly rehearsals, perform at College events and are required to have at least six months of playing experience on their instrument. The main focus of Concert Band is to enjoy ensemble playing and learn fun repertoire, from popular songs to movie themes, and perform at College events throughout the year. Students are invited to join at any time.
The Corelli String Ensemble is an advanced string ensemble for students in Years 7-12. Students in the ensemble are required to be at minimum Grade 4 (AMEB) standard with above 3-4 years of playing experience.
The ensemble extends musical development and enjoyment through the rehearsal and performance of challenging repertoire and requires a high level of proficiency. Students in this ensemble have enjoyed a variety of performance opportunities at the College and outside of the school community, including weekend functions and events.
The Jazz Band is for students in Years 7-12 who play a wind or brass instrument, as well as guitarists, bass guitarists, piano players and drummers.
Students learn a variety of jazz, funk and fusion repertoire and learn the art of improvising and building their ensemble skills. Students are required to have a competent ability on their instrument and have proficiency in reading music. The Jazz Band rehearses weekly and often performs throughout the year at College events.
The Orchestra is for students in Years 7-12 who play woodwind, brass, string or percussion instruments.
Students participate in weekly rehearsals and are required to have a minimum of 2 years playing experience on their instrument with a proficient ability in reading music. The Orchestra performs at College events throughout the year and enjoy playing a variety of repertoire including Classical music and orchestral movie themes.
The Percussion Ensemble is available for any interested musician in Years 7-12, but particularly aimed at percussionists and pianists.
Students do not need any formal music training to play in this ensemble, but experience in reading music is helpful. The ensemble provides an opportunity for students to develop their ensemble skills and perform at various College and community events.
Dance
Rosebank's Dance Company is open for students from Years 7-12 and offers the students a chance to build skills, work as a team and have the opportunity to perform and compete several times throughout the year in activities like the Sydney Eisteddfod, Ryde Eisteddfod and various College functions.
Dance Company is a three-term commitment and rehearsals take place during PACE time. Students have the choice of jazz, hip-hop, contemporary and tap to increase their skills and performance opportunities.
Drama
Drama at Rosebank College conducts auditions twice each year for students to join the Drama Ensemble. Successful candidates must demonstrate strong skills in drama as well as the ability to work effectively in a collaborative environment.
The ensemble is called upon to perform in many important events in the College calendar along with a Drama Ensemble production each year. The Rosebank Drama Ensemble meets weekly for rehearsals and is open to students in Years 7-12.
Theatre Sports is a team-based event where teams engage in 'games' where they must create a scene out of a 'theme' or 'idea' given only to them a few seconds prior to beginning.
Theatre sports is improvisation-based. It gives students invaluable skills to create and perform, improve communication and teamwork skills, develop confidence and problem solve. For Years 10-12 during Semester 1.
Musical
All areas of Performing Arts come together for Rosebank's Musical Production which runs every second year.
With recent musicals including Charlie and the Chocolate Factory, Legally Blonde, Shrek and Thoroughly Modern Millie, all spectators agree that the quality of the acting, dancing and musical performances are second to none.
View photos of our most recent musical here